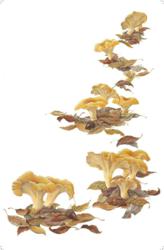 San Francisco Botanical Garden Society presents "Secrets of the Forest: Portraits of Wild Mushrooms," an exhibition of paintings in gouache and watercolor by Lucy Martin. The exhibition is open to the public Wednesday-Saturday, January 4th through April 28th at the Helen Crocker Russell Library of Horticulture, located at San Francisco Botanical Garden in Golden Gate Park. An artist's reception will be held from 5-7pm on Thursday, January 19, 2012.
Lucy's artwork reveals her love of mushrooms and other fungi and of their forest habitat. In contrast with the more familiar tradition of botanical art in which the subject is shown as an isolated specimen, her paintings show mushrooms in their natural setting, along with leaves, moss, bark and fir cones. They are small landscapes of the forest floor. The paintings reflect Lucy's appreciation of fungi as participants in the continual process of decay and transformation going on in the forest: the cycle of life. Her art draws us to contemplate the vital, intimate relationship of fungi with trees and other plants, often growing in mutually beneficial symbiosis. Lucy paints the mushrooms with scientific accuracy, but says, "My goal as an artist is to awaken a sense of the mystery, strangeness and beauty of the natural world."
Lucy's interest in mushrooms began in 2006 when she moved to the Santa Cruz Mountains and began to discover the tremendous abundance of fungi in this area of heavy rainfall. She was captivated by the amazing diversity of fungi and was drawn to make them a major subject for her artwork as well as to study them.
Lucy Martin lives in Felton, California, in the Santa Cruz Mountains, and has been drawing and painting most of her life. She has studied with the well-known artist and illustrator Maryjo Koch, who lives in Bonny Doon, California. Recent exhibits include Women Illustrating Nature, at Galeria Tonantzin, San Juan Bautista (juried, June-July 2011) and the Cultural Council of Santa Cruz County Open Studios Art Tour (juried, Oct. 2011). She was also commissioned to do artwork for the poster and t-shirt for 2010 Mycological Society of San Francisco Fungus Fair.
The Helen Crocker Russell Library of Horticulture is open Wednesday-Saturday from 10:00am to 4:00pm, except for major holidays. A special evening reception for the artist will be held at the Library on Thursday, January 19, from 5:00 to 7:00pm. The reception is open to the public and admission is free. The artwork in the exhibition and giclée prints are available for sale, with a portion of the proceeds benefiting the Library. For more information the public may call (415) 666-2211 x 403 or visit
http://www.sfbotanicalgarden.org
.
The Helen Crocker Russell Library of Horticulture is recognized as one of the finest horticultural resources in the nation. Its 27,000-volume collection ranges from new gardening titles to antique herbals. The library also features a 1,600-volume children's library of books about plants and gardens, and offers children's story reading programs, as well as its noted botanical art exhibits.
San Francisco Botanical Garden Society Presents Paintings of Wild Mushrooms